Future Travel: Our pick of best sustainable destinations 2021

Future Travel: Our pick of sustainable destinations in 2021

Although the traffic light system doesn't necessarily mean all of us have the green light on travelling abroad, warmer days have whet our appetite for a more dramatic change of scenery.
We hope to see the travel industry recover from the devastating financial effects of COVID-19, and it's more important than ever to support businesses that focus on sustainability so that future generations can enjoy travelling just as much as we do.
From staycations to wish list destinations, we've compiled the ultimate guide to our top 5 sustainable destinations to add to your bucket list.
In a nutshell: They describe it as 'a hotel that feels like a festival' and we couldn't agree more. Set in 55 acres in Cheshunt, the retreat is just 30 minutes north of London and gives you the ideal place to recharge with numerous on-site eateries, a screening room showing both classics and new releases and a 25-metre lido. It also caters to everyone: couples (dine in the fairy-lit tipi), families (kids can enjoy their own pool next to the lido until 3pm), and groups of friends (bunk rooms sleep 4 with a double bed and a well-sized bunk bed).
Sustainability: There's an on-site farm with pigs and chickens, introductions to composting and foraging, and home-grown produce for the restaurants. They make a point of reusing, repairing and minimising their impact wherever possible. You might also notice that avocados are absent from their menus—due to their social and environmental impact.
Top tip: Stay in The Ridings, a converted barn set back from the main hotel building around a courtyard adjoining Robin Gill's restaurant The Zebra Riding Club. You'll be away from the hustle and bustle of the hotel and close to the Wellness Centre where you can enjoy all-inclusive classes from yoga to spin.
BEST FOR A ROMANTIC RETREAT
In a nutshell: A luxury eco-hotel in stunning Cornwall that offers serenity at its finest. Overlooking the secluded beach of Mawgan Porth, sleek architecture meets contemporary design for a fluid transition between the airy interiors and rugged beauty of the Cornish coast. They protect the zen-like atmosphere with an adult-only policy, meaning it's the perfect place to unwind with your significant other.
Sustainability: It's ingrained into everything The Scarlet does, so much so that they have a list of no less than 111 ways they're sustainable, including reducing the amount of waste they send to landfill, reducing their carbon footprint year-on-year and bee-friendly planting. Their aim is to redefine luxury, eliminating over-consumption without compromising on experience.
Top tip: Don't miss the clifftop hot tubs and sea view saunas to help you melt away the stresses of the past year.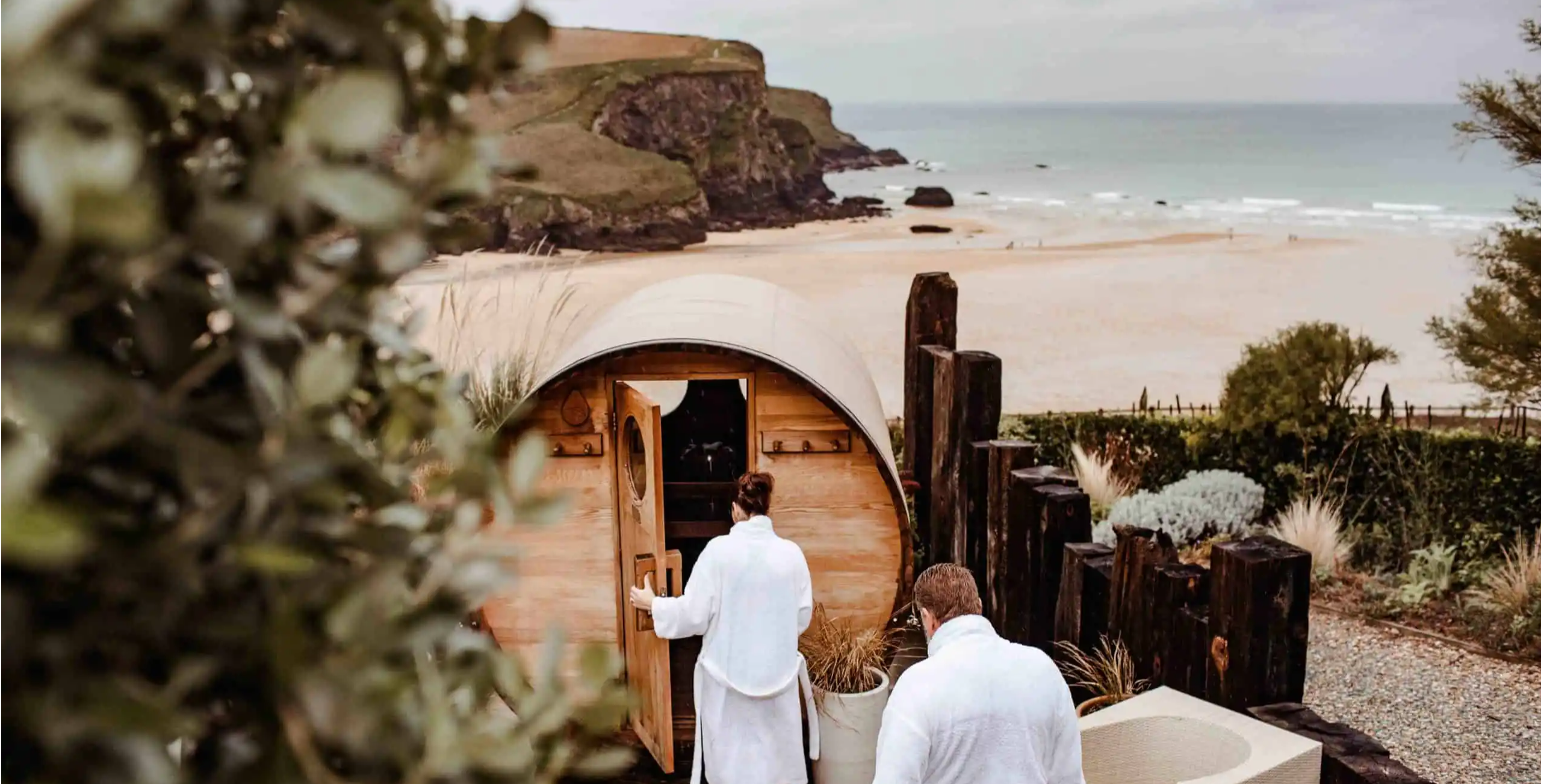 In a nutshell: Situated at the top of a Columbian mountain range, the adults-only Bio Habitat Hotel offers views of 160,000 square metres of tropical rainforest with an abundance of experiences to immerse you into nature further. If you regret passing up the opportunity to 'find yourself' on a gap year, this place offers a sophisticated grounding experience that beckons you to reflect, disconnect from stressors and reconnect with nature in a magically humble yet awe-inspiring environment.
Sustainability: They emphasise experiences that highlight local Colombian culture and the native wildlife, with an on-site restaurant dedicated to slow food and sustainable cuisine. They offer a 'BIO trail' experience where you can learn about their sustainable process of organic waste and wastewater management and their self-sufficiency project through permaculture. You'll also be able to give back by contributing to the recovery of the forest through planting a native tree.
Top tip: You can't beat a cup of local coffee—book onto a coffee plantation tour to discover a newfound appreciation for your morning espresso.
BEST FOR ADVENTUROUS SPIRITS
In a nutshell: The perfect base to explore the breathtaking landscapes of Patagonia, the angular Hotel AWA proudly contrasts the sweeping national parks and Osorno Volcano, while floor-to-ceiling windows put you right in the centre of it all. As an independent family project, their tailor-made stays have a reverent authenticity, making you truly feel like part of the community during your stay.
Sustainability: There's an organic garden and orchard project, sparing water usage, over 250 352W solar panels (which are projected to offset 1,883 tons of CO2 in 25 years) and much more. As of last year, they became the first hotel in Chile to be named as a Certified B Corporation, meaning that they are recognised for their positive impact to their community, employees and environment.

Top tip: Say yes to as many experiences as you can: from horseback riding to helicopter tours, this is a destination for making unforgettable memories. Don't miss the small stuff either—there's nothing more satisfying than harvesting fresh produce from their garden and being guided into transforming it into a masterpiece via their cookery classes.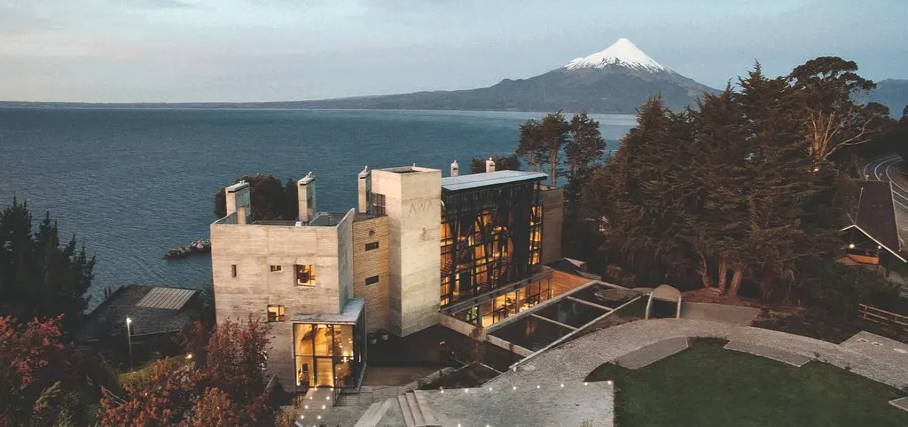 In a nutshell: Converted from the former Central Post and Telegraph Office, the building maintains its grandeur with an updated element of playfulness. With only an hour's time difference, Villa Copenhagen makes a great destination for remote working if you can book in for a long weekend. It's situated in the city centre next to the Tivoli Gardens, so you're never going to be short of wifi plus you'll be at the epicentre of Danish culture to explore on your lunch break.
Sustainability: Their manifesto states that physically and socially they want to be "the best hotel for the world by taking full responsibility for our environmental footprint." The 25-metre rooftop pool is warmed year-round with excess heat from the hotel's cooling system, they work with local communities and suppliers, and they promote diversity by employing people from all backgrounds.

Top tip: Stay in the Earth Suite, designed by Danish architect Eva Harlou. A fully sustainable haven made of recycled materials and textiles with eco-friendly furniture by Mater, it encapsulates the hotel's ethos of conscious luxury.
0 comments